Biography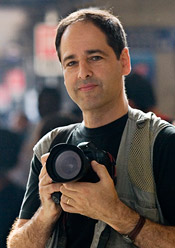 Mike Goldwater is an award-winning editorial and corporate photographer, film-maker, and owner and director at Blue Cube Productions Ltd. His pictures have been published in major magazines around the world, widely exhibited and featured in many corporate publications and presentations.
Photo stories, assignments and film projects have taken him to more than 70 countries. Mike was a founder member of the internationally renowned Network Photographers agency. Making images is his continuing passion.
Commercial clients include Avis, Anadarko, BAE Systems, BBC, Chevron, CityGreen, Coca Cola, Corporation of London Police, Duracell, Ericsson Mobile, Established & Sons, GCB (Ghana Commercial Bank), Gulbenkian Foundation, Land Rover, Mansfield Monk, National Grid, Sab Miller, Skansen, Standard Chartered Bank, Taylors of Harrogate, Tom Tom, Morrisons Supermarkets, TrenItalia, Virgin Trains & others.
Film clients include Anadarko, BBC, Channel 4 News, Taylors of Harrogate, The Guardian, SightSavers, GCB (Ghana Commercial Bank), World Wildlife Fund, IIED & others.
Editorial clients include The Sunday Times, The Observer, The Guardian, The Telegraph, The Independent, Intelligent Life, FT magazine, Time, Newsweek, Stern, Der Speigel, Paris Match, Grande Reportage & others.
Awards
| | |
| --- | --- |
| 2011 | Canon Open Sutter Award, short-listed for the film 'If a Tree Falls…' |
| 2005 | Pamada Photography Award for corporate work with Skansen Interiors. |
| 1999 | World Press Photo, Nature and the Environment, for picture story on Floods in Bangladesh. |
| 1994 | World Press Photo, General News, for pictures of the ethnic conflict in Burundi. |
| 1991 | Tom Hopkinson prize for UK Magazine photographer of the year. |
| 1983 | The Observer – Christian Aid 'Facing The Future' Award for work in Central America. |
Selected Exhibitions
| | |
| --- | --- |
| 2014 | 'Between Revolution and War', photographs of the civil war in El Salvador, at the salon Camilo Minero, Cancilleria de la Republica, San Salvador and then touring El Salvador and Guatemala. |
| 2003 | 'Acqua' at Palazzo Reale gallery, Milan, Italy and toured Italy including Naples, Potenza, Genova and Rome. March until end of 2004. |
| 2002 | Beyond the Facade – 21 Years of Photojournalism from Network Photographers at The Newsroom, London. |
| 1998 | 'NHS at 50' – a Network Photographers project on the UK's National Health Service – set of photographs on birth. Exhibition at Photographers Gallery and toured nationally. |
| 1995 | 'Positive Lives' – Network Photographers project on Aids and HIV – picture set on religious response to HIV. |
| 1985 | 'Famine in Africa' – joint exhibition with Chris Steele-Perkins at the Side Gallery, Newcastle. |
| 1985 | 'British Eyes on the World' – images from El Salvador and Eritrea included in five-man show for the British Council touring Brazil for five years. |
| 1982 | 'Agent Orange and 2,4,5-T' – a project paralleling the effects in the UK of the use in agriculture of the herbicide 2,4,5-T, one of two ingredients in Agent Orange, with the effects of Agent Orange in Vietnam. The exhibition toured the UK for two years. |
Books
| | |
| --- | --- |
| 2019 | 'London Underground 1970-1980' published by Hoxton Mini Press, London. |
| 2015 | 'The Energy Equation' published by Black Sun, London. |
| 2000 | 'Acqua' published by Motta, Milan, with intro by Mikhael Gorbachev. |
| 1993 | 'Daniel and the Mischief Boy' – children's photo-book set in Eritrea written by Paul Vallely, published by Harper Collins. |
| 1992 | 'Promised Lands' – book on land issues in the Third World with text by Paul Vallely published jointly by Harper Collins and Christian Aid, 1992. |
| 1989 | 'Indus Journey' – photo-book with Imran Khan on Pakistan published by Chatto, London. |
| 1985 | 'Fighting the Famine' – project on the famine in Africa and its causes with text by Nigel Twose, published by Pluto Press. |